Editorial Channels + Features
What's new for SMM in 2021?
SMM is now totally digital, mobile and social. No print. That ensures you reach corporate sales and marketing decision-makers where they are…in front of their screens, now at home as much – or more – than in an office.
The move also enhances our strategy of building the increasingly important Millennial segment of our audience to meet your increasing need to reach it. Sales and marketing professionals in their 20s and 30s are increasingly moving into decision-making management positions. Our content and our databases are designed to reach them.
We've migrated from four digital magazine issues in 2020 to eight Focus Reports in 2021, with the flexibility to add more if events warrant it. Each report has a "breaking news" quality to it, and it's presented online as a package of related stories, as well as a PDF that can be downloaded and shared with colleagues.
Individual banner ads have been replaced by Digital Sponsorships to enhance digital presence, reduce scheduling hassles and lower advertiser's costs. Sponsorships include high-impact banner sizes that rotate throughout both the SalesandMarketing.com and SMMConnect.com sites, as well as placements in our SMM Monitor weekly e-newsletter.
A contemporary, user-friendly website is nearing completion and will be a constant source for the market-leading content the Sales & Marketing Management brand has been known for since 1918.
The site's content will be tightly focused on cutting-edge sales and marketing strategies, technologies and trends. Based on a recent audience survey, content will be dialed up in the areas of sales training, sales enablement, digital marketing and marketing automation. Coverage of driving performance through sales incentive and recognition programs and products will continue.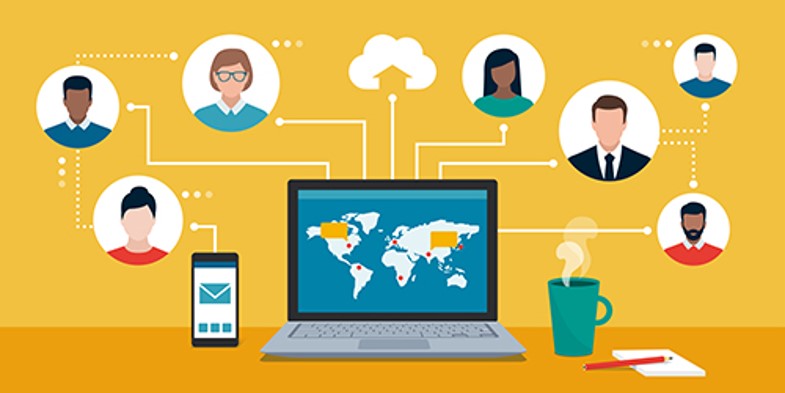 And now a few words about SMMConnect
SMMConnect is SMM's social learning community and the host site for webinars and other downloadable content.
Its membership totals nearly 41,000 highly engaged sales and marketing management professionals, and the community is growing at an average rate of 350 new members per month.
SMMConnect delivers nearly 100 highly acclaimed webinars a year that attract an average of 250 to 300 registrants who are exceptionally qualified prospects.
Webinar sponsors receive complete contact and demographic data for all attendees within two hours of webinar presentations.
More than 300 webinars are archived on the site and that number of ageless content is increasing monthly.
Webinar sponsors receive leads ad infinitum from SMMConnect's evergreen lead system that sends complete contact and demographic information weekly for sales and marketing managers who view archived webinars.
Digital sponsors' high-visibility ads rotate site-wide on SMMConnect.com and SalesandMarketing.com and in the weekly SMM Monitor newsletter.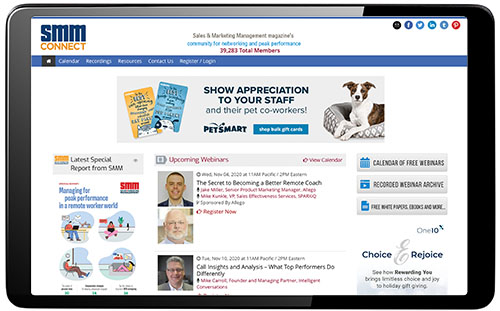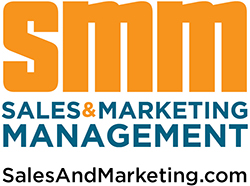 This foundation of the SMM brand is being redesigned to a cleaner, more contemporary and engaging destination with a significantly increased flow of news, analyses, trends and research information. The updated site is slated to go live in early 2021.
Additionally, the website hosts a sponsor recognition box featuring the logos of the month's Digital Sponsors, linked to their respective websites.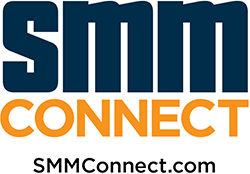 SMM's community for networking and peak performance with nearly 41,000 members. This is home base for all of SMM's webinars, with nearly 300 archived and three or four new webinars added monthly.
Marketers who have custom and sponsored webinars have those webinars archived here. Every time someone downloads a webinar (for free), their contact information and company demographics are captured and sent to the sponsor via our "evergreen" lead system.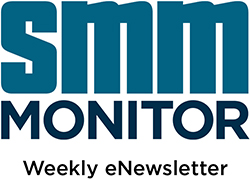 This eNewsletter, published every Tuesday, captures breaking news and content from respected market gurus and thought leaders. Its design includes four ad spaces to accommodate the rotation of ads from a maximum of eight Digital Sponsors monthly.
SMM Focus Reports
Published twice per quarter (with the flexibility to produce additional reports if warranted), these Focus Reports each tackle a single topic. They are succinct and insightful. Editor Paul Nolan has been leading media brands in the sales and marketing space for nearly 30 years. His insight, experience, natural curiosity and journalism background drives the site's informative content for readers and creates a valuable environment for advertisers to present their message.
Layout of the Focus Reports enables marketers to include traditional full-page display ads. Marketers should also keep an eye on the Editorial Calendar (see Editorial Product Advertising and Calendar tab) throughout the year. If they think they may have content to contribute to the subject matter of specific Focus Report topics, they should contact editor Paul Nolan to explore possibly getting it included.
Each Focus Report carries an ad for current SMM digital sponsors with their logos hot-linked to their websites.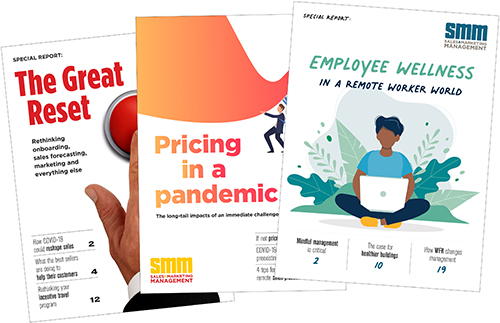 "I turn to Sales & Marketing Management for solid reporting on important topics for B2B marketing professionals."
-Jake Rheude, VP of Marketing
Red Stag Fulfillment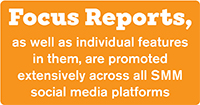 Periodic Reads
 
Sponsored Articles
Also known as Content Marketing, SMM enables marketers to position their key people, brands and products as industry leaders by way of contributing materials in the forms of articles or white papers throughout the year.
Sponsorships can take the form of arranged interviews, a series on specific topics or themes, or an ongoing series featuring noted individuals in the industry.
Shelf life of sponsored content is greatly extended by archiving on the SMM site.
Consult with your SMM Account Executive today to explore custom options to meet your unique, specific goals.