What's New For 2020?
Sales & Marketing Management's 20/20 vision
The SMM team has been doing a lot of market research, marketer conversations and audience surveys. What we've found is there has been incredible change in the nearly 10 years since we re-launched the brand, and that change is happening now at the speed of light. We plan to keep our audiences on the cutting edge. And that will keep you in front of an audience universe more engaged than ever.
What's in it for you?
The one thing about b2b media and its products that hasn't changed is that the primary objective is still to connect buyers and sellers
We're increasing our emphasis on digital/online tools to help you reach corporate sales and marketing decision makers where they are
Physical print editions are going from six to four issues enabling more time and resources to be dedicated to digital assets, including what will become a market-leading website
Editorial content more tightly focused on cutting edge sales and marketing strategies, technologies and trends; training programs and products, projectable research and more
Significant digital and print database enrichment. SMM has partnered with a leading database development company and has initially started with an increase of 20,000 precisely targeted new subscribers/members. SMM also has contracted a social media resource that is already adding 200+ qualified prospects monthly to databases
Providing you even more market-leading, lead-generating webinars, whitepapers and content marketing platforms than any other media brand in the channel
REGULAR READS
These sections appear in every issue of Sales & Marketing Management:
Next – Quick reads on sales and marketing trends, technology, research and management hacks for increased productivity.
Managing to Motivate – Insights on driving peak performance.
Closers – Q&A interviews with leading business thinkers, authors and other notable figures from the B2B sales and marketing world.
Tech Stack – A rotating column examining the software, platforms and other technology tools that can generate better B2B sales and marketing results.
PERIODIC READS
Meetings and Incentive Travel – Driving performance with incentive travel experiences and effective use of offsites. SMM's coverage includes the latest research from the Incentive Federation, the SITE Foundation, and other incentive travel associations and organizations.
Trends In – A showcase of non-cash incentives and recognition ideas, plus useful insights for their effective use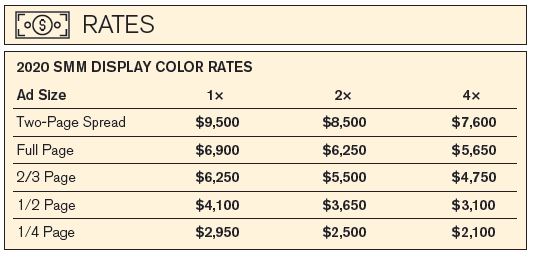 EDITORIAL CONTRIBUTORS
Every issue of SMM features insightful columns from two thought leaders who are on the front line of the B2B sales and marketing future.
The Sales Conversation by Tim Riesterer – The chief strategy officer at Corporate Visions shares research and strategies that provide a competitive edge.
Lift by Tim Houlihan – The Chief Behavioral Strategist at Behavior Alchemy, LLC, provides business insights from behavioral science that play an increasingly important role in managing for improved performance. Houlihan is the former VP of Reward Systems at BI WORLDWIDE.