Our reach takes your brand further
Sales & Marketing Management is the premier media source for reaching sales and marketing
end-user decision-makers.
SalesandMarketing.com and its sister site SMMConnect.com are where top B2B sales and marketing professionals head to find essential resources and information
related to:
Sales training and coaching

Sales management training

Sales enablement tools/technology

Sales compensation, recognition and incentives

Marketing communication and automation

CRM Platforms

Rewards, incentives and loyalty programs/products

Sales meetings strategies and destinations/facilities

Lead generation

Branding strategy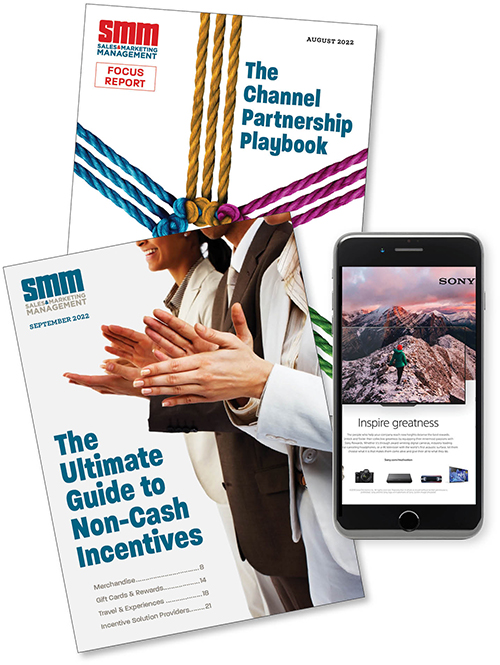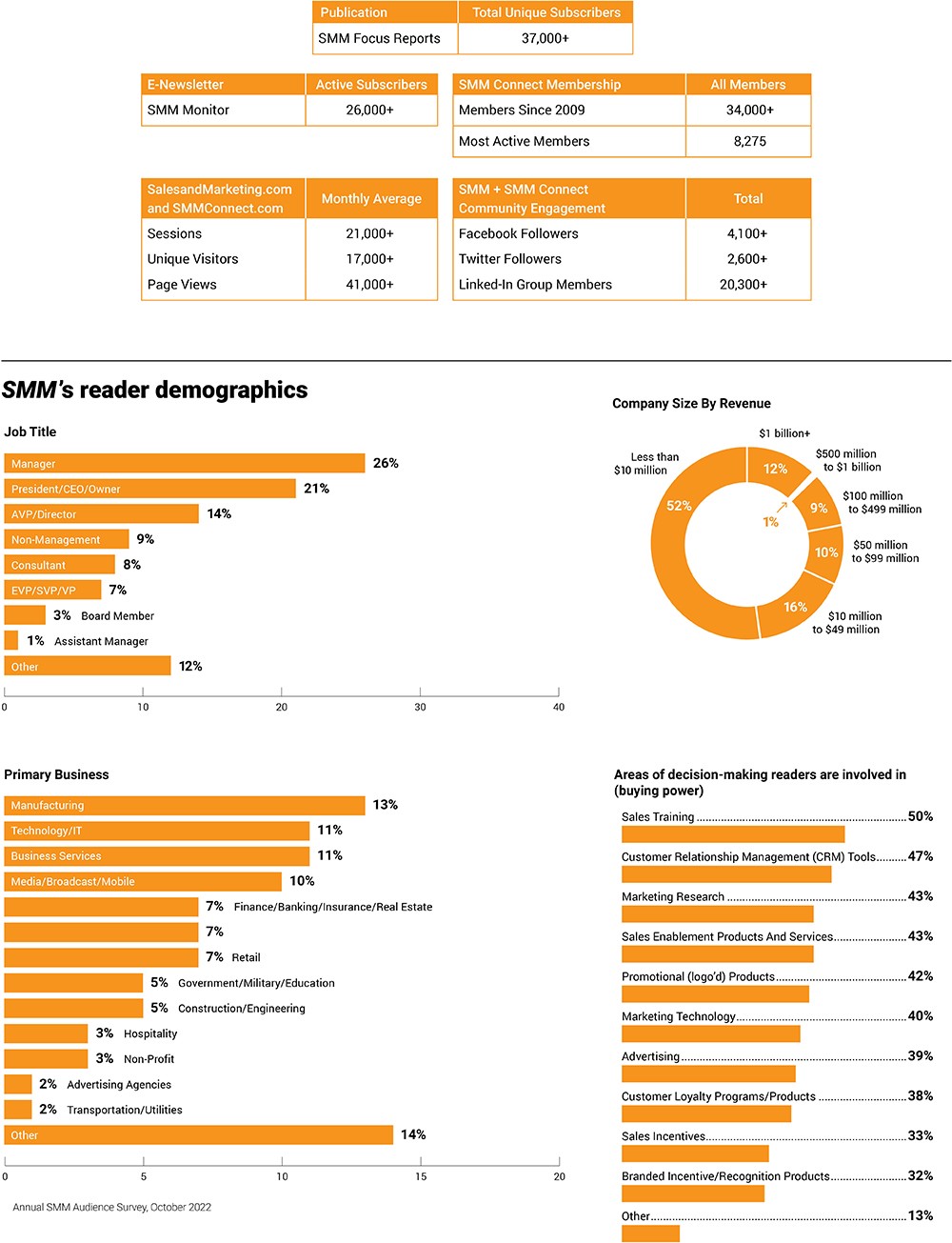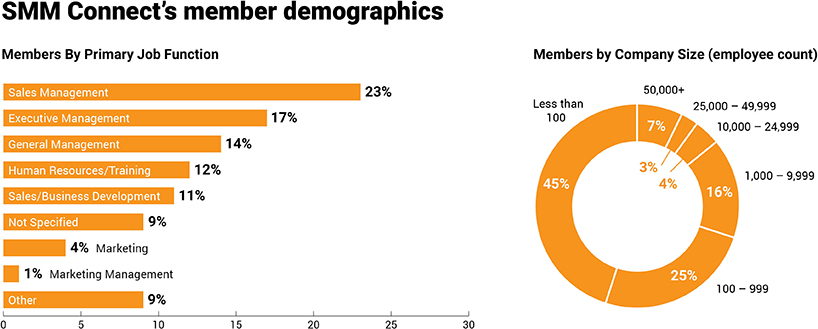 Judge us by the companies we keep
Here is a sample of companies whose employees actively engage with Sales & Marketing Management. In addition to substantial investments in building our database when SMM went totally digital in Q1 2020, the brand enjoys a steady stream of webinar registrations and whitepaper downloads which contribute new subscribers to our database – averaging nearly 1800 per month.
| | | | | | |
| --- | --- | --- | --- | --- | --- |
| 3M | Bridgestone | Dr Pepper Snapple Group | IBM | New York Life Insurance | Southwest Airlines |
| Abbott Laboratories | C.H. Robinson | DuPont | IHG | Newell Rubbermaid | Sprint |
| ABF Freight System | Caesars Entertainment | Eastman Chemical | IKEA North America | Nike | St. Jude Medical |
| Accenture | Canon | Eaton | Ingersoll Rand | Nokia | Stanley Black & Decker |
| Adobe Systems | Capital One | Ecolab | Intel | Novartis | Starwood Hotels & Resorts Worldwide |
| ADT | Cardinal Health | Eli Lilly | Intuit | Novo Nordisk | State Farm |
| Aetna | Cargill | EMC | Janssen | Occidental Petroleum | Sun Life Financial |
| Aflac | CarMax | Emerson | JB Hunt Transport | Olympic Steel | Suntrust Banks |
| Agilent Technologies | Carnival Cruise Line | Epicor Software | Jennie-O Turkey Store | Oracle | Symantec |
| AK Steel Corporation | Caterpillar | Epson America | John Deere | O'Reilly Automotive | Synovus Financial Corporation |
| Allergan | CBS Television | Equifax | Johnson & Johnson | Owens Corning | Sysco |
| AlliedBarton Security Services | Century 21 Real Estate | Ericsson | Johnson Controls | Parker Hannifin | Takeda Pharmaceuticals |
| Allstate Insurance | Centurylink | Erie Insurance Group | JPMorgan Chase | Penske | TATA Consultancy Services |
| Amazon | Charles Schwab Corporation | ESPN | Kaiser Permanente | Pentair | TD Bank |
| AMC Networks | Chrysler | Extended Stay America | Keller Williams Realty | PepsiCo | The Home Depot |
| American Airlines | CHUBB | Farmers | Kohler Co | Perdue Farms | The TJX Companies |
| American Express | Cigna | FedEx | Konica Minolta Business Solutions | Pfizer | Thermo Fisher Scientific |
| American Foods Group | Cisco | Fidelity Bank | Kraft Foods Group | PNC | Time Warner |
| American General Life | CITGO Petroleum | Fisher Scientfic | Kraton Polymers | Primerica | T-Mobile USA |
| American Honda Motor | Citi | Fisher-Price | Kronos | Princess Cruises | Toyota |
| American Tire Distributors | CNN Worldwide | Ford Motor | Land O'Lakes | Procter & Gamble Company | Transamerica |
| Amerigas | Coca Cola | Garelick Farms | Lane Bryant | Progressive Insurance | Travelers |
| Ameriprise Financial | Comcast | Gartner | Lenovo | Prudential | True Value |
| Amerisource | Comerica Bank | General Electric | Lexmark | Quad Graphics | Tyson Foods |
| Amgen | Constellation Brands | General Mills | Liberty Mutual Insurance | Quaker Oats Company | UBS Financial Services |
| Anchor Hocking | Consumers Energy | General Motors | LinkedIn Corporation | Qualcomm | U-Haul International |
| Anheuser Busch | Corning | Genesys | Lockheed Martin Space Systems | Regal Entertainment Group | Ultimate Software |
| Anthem | Cummins | Georgia-Pacific | L'Oreal | Rent-A-Center | Unilever |
| Applebee's Restaurants | CUNA Mutual Group | Goodrich | Lowe's Companies | Ricoh Americas | Union Pacific Corporation |
| Aramark | Daimler | Google | Marriott International | Rockwell Collins | United Airlines |
| Archer Daniels Midland | Dal-Tile | Gordon Food Service | Mars Chocolate North America | Sabre | United Parcel Service |
| Astrazeneca | Danfoss | Graco | Mastercard | Safelite Group | UnitedHealth Group |
| AT&T | DaVita | Grainger | Mattel | Saint Gobain | Unum Group |
| AutoNation | Dell Technologies | Halliburton Energy Service | McDonald's Corporation | Sanofi Genzyme | US Bank |
| AutoZone | Deloitte | Hanover Insurance Group | McKesson | Sanyo | US Foods |
| Bank of America | Delphi | Heineken USA | Medtronic | SAP | US Steel Corp |
| BASF | Delta Air Lines | Hewlett Packard | Merck | Sargento Foods | UTC Aerospace Systems |
| Bass Pro Shops | Deluxe Corp | Hilton Worldwide | Michelin North America | Schneider Electric | Verizon |
| Big Lots, Inc. | Deutsche Bank | Holland America Line | Microchip Technology | Scripps Health | Visa |
| BNY MELLON | DHL Express | Honeywell | Microsoft | Shaw Industries | Walgreens |
| Boehringer Ingelheim | Dillard's, Inc. | Hormel Foods | Miller Brewing Company | Sherwin-Williams | Walmart |
| Boeing | DISH Network | HSBC | Motorola | Siemens | Walt Disney Parks & Resorts |
| Bosch | Dollar General Corp. | Humana | National Car Rental System | Sigma-Aldrich | Wells Fargo |
| Boston Scientific | Dow Corning | Hyundai Motor America | Nationwide | Sodexo Inc | Whirlpool |
| BP | Dow Jones & Co Inc | Hy-Vee Distribution Center | Nestle USA Inc | Sotheby's International Realty | Xerox Corporation |