Brand Recognition/Preference: Digital Sponsorship Program + eNewsletter
Digital Sponsorship Program
This is the SMM's #1 product for building brand recognition and positioning. Period. First of all, it's limited to only 8 advertiser partners per month. Second, it spans two powerhouse websites with jumbo banner sizes and two weekly editions of our enewsletter – the SMM Monitor.
This pervasive branding campaign includes:
Sitewide rotation of high-impact ad banners* on SalesandMarketing.com 

Sitewide rotation of high-impact ad banners* on SMMConnect.com

Monthly rotation in SMM Monitor eNewsletter

Your logo in digital sponsorship recognition box on both websites

Recognition in dedicated half-page ad appearing in Focus Reports from              the same quarter as your digital sponsorship (see example to the right)
*Included banner sizes are 970×250, 300×600 and 300×250 (for mobile and eNews only)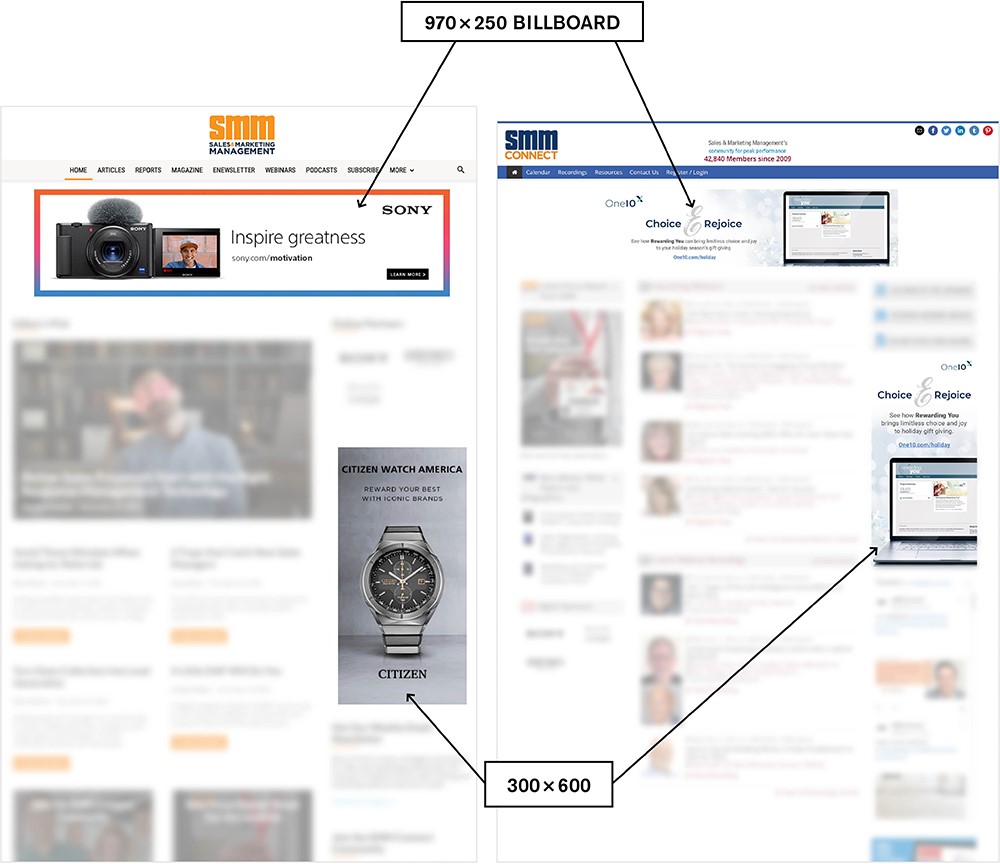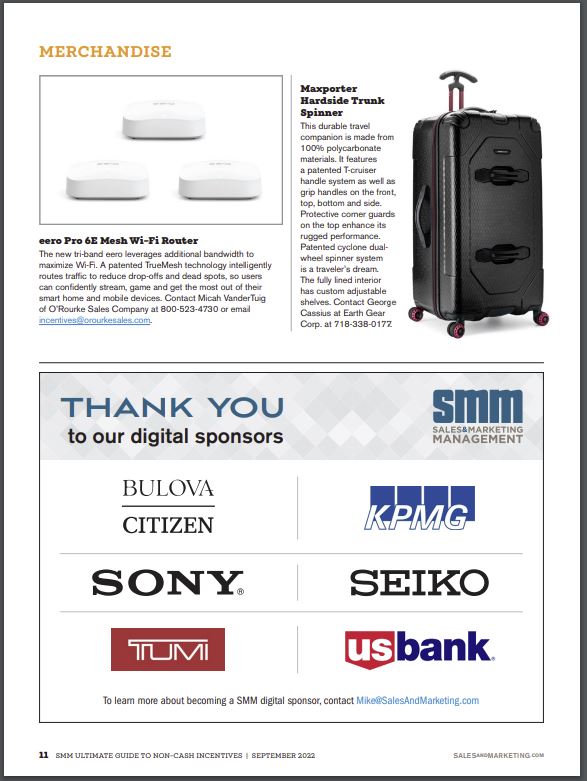 | | |
| --- | --- |
| | |
| Digital Sponsorship Program (1 month) | |
Digital Sponsorship: METRICS
Sitewide rotation of 10% SOV (minimum).

37,000 impressions per month.

Average banner CTR: 1.2 - 1.5%
SMM Monitor eNewsletter
This popular eNewsletter provides relevant news and business intelligence to 26,000+ sales and marketing executives.
The quick-read format, combined with the newsletter's reputation for disseminating top-notch content, makes the SMM Monitor a savvy choice for sales training, enablement, technology and incentive providers to reach a core audience ready to act on sales growth initiatives.
All monthly digital sponsors enjoy excellent exposure through regular rotation of their 300×250 banners in that month's SMM Monitors (included in the cost of the digital sponsorship – the sponsor's banner appears in a minimum of four issues over the month). 
Text ads may be purchased on a monthly or single issue cadence – these include 70-80 words and 1-2 hyperlinks and are an effective way to issue a CTA to SMM Monitor readers in a native ad format. 
| | |
| --- | --- |
| | |
| eNewsletter Text Ad (1 issue) | |
| eNewsletter Text Ad (1 month, min. of 4 issues) | |
eNewsletter Text Ad: METRICS
Opt-in subscribers: 26,000+

Average banner CTR: 0.3 - 0.8%