Editorial Product Advertising and Calendar
Advertising in SMM's Editorial Products

SMM functions on a quarterly basis. There is a minimum of two digital Focus Reports in each quarter. Advertisers can purchase full-page display ads in one or both reports.
The reports are transmitted to SMM's combined database of 31,000+, plus promoted digitally and on social media.
They also are promoted in the weekly SMM Monitor eNewsletter, initially in the report's entirety, followed by promotions of the individual feature articles until the next report is transmitted.
Following transmission of a report, all feature articles in it are transmitted at least once until the next report is transmitted. Logos with a short promotional blurb of all the advertisers in the original report are linked to each advertiser's website and presented in a full-page ad in the report.
All reports, with all ads, are archived on SMM's website.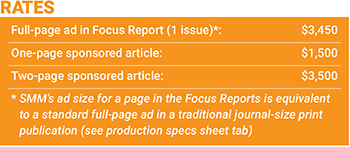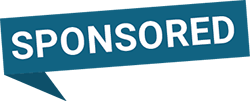 Sponsored Articles
SMM's multiple editorial platforms provide marketers a variety of options to convert existing materials to marketing assets.
Additionally, marketers can team up with SMM editors and/or writers to create marketing content.
Pricing is variable and negotiable, starting at $1,500 for a one-page article of roughly 750 words to two-page article of approximately 1,500 words for $3,500. Pages can be added for display ads, sidebar article and other materials.
These are transmitted as stand-alone to the entire database and promoted with HTML blasts, on social media, on both websites and in the weekly Monitor.
If the topic of a sponsored article fits within the scope and timing of a SMM Focus Report, the article will be considered for inclusion in that report.
Additionally, a lead-gen component can be built in with the article containing a request for a download of a whitepaper,  eBook or similar product that generates complete contact and company demographics.